Gallet MultiChron 12

Introduced in 1932

Model name: MultiChron 12 (1st series)

Reference #: n/a

Movement type: chronograph, manual wind

Calibre: Universal Geneve 281 (Martel)

Case material: stainless steel

Case back: press in

Dimensions: 30.2mm ("Petite" size)

Bracelet: leather or mil. spec. canvas

Water resistance: n/a

Production years: 1932 - ?

Serial numbers: n/a

Application: aviation, auto racing, etc.

Notes: 3 register, 12 hr. recording, telemeter & tachometer scales

Valuation*

Stainless Steel: $3,800.00 - $4,200.00 (extra rare)

14k Gold: n/a

18k Gold: n/a

* Valuations for timepieces listed on Gallet World are based on an average of fair market prices, either quoted or realized in retail venues, auctions, and NAWCC national and regional shows. Values displayed are for complete timepieces in good working condition with original dials and components.

** Add $300 to $500 for superior Excelsior Park Movement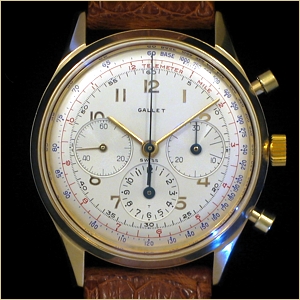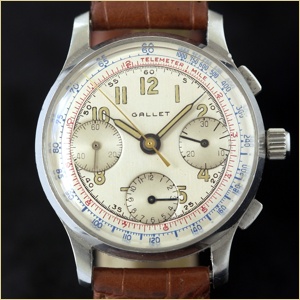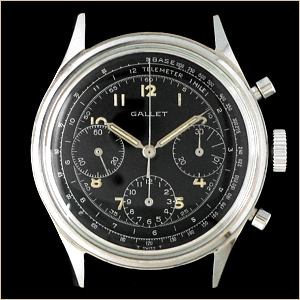 GALLET WORLD

GENEVE - SINCE 1466

Model name: MultiChron 12 waterproof "Jim Clark"

Reference #: 5193

Movement type: chronograph, manual wind

Calibre: Valjoux 72 or Excelsior Park 40

Case material: stainless steel

Case back: screw in

Dimensions: 37.4mm

Bracelet: leather or mil. spec. canvas

Water resistance: 30m

Production years: 1952 - 1970's

Serial numbers: n/a

Application: aviation, artillery timing, military, auto racing

Notes
: 3 register, 12 hr. recording, telemeter & tachometer scales, black military dial, same version used by
Jim Clark
Valuation*

Stainless Steel: $7,500.00 - $8,500.00** (extra rare)

14k Gold: $9,000.00 - $10,000.00 (extra rare)

18k Gold: n/a

Model name: MultiChron 12 waterproof

Reference #: 5193

Movement type: chronograph, manual wind

Calibre: Valjoux 72 or Excelsior Park 40

Case material: 14k gold

Case back: screw in

Dimensions: 38mm

Bracelet: leather or mil. spec. canvas

Water resistance: 30m

Production years: 1952 - 1970's

Serial numbers: n/a

Application: aviation, sports, auto racing, scientific

Notes: 3 register, 12 hr. recording, telemeter & tachometer scales, gold or blue-steel hands common on 14k version

Valuation*

Stainless Steel: $4,800.00 - $5,500.00 (rare)

14k Gold: $7,000.00 - $8,000.00** (extra rare)

18k Gold: n/a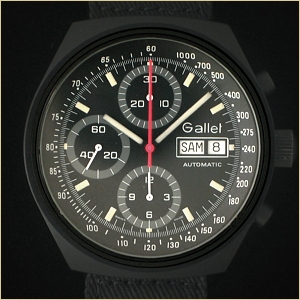 Model name: MultiChron 12 (Swiss military issue)

Reference #: n/a

Movement type: chronograph, auto-wind

Calibre: Valjoux 7750

Case material: stainless steel w/ PVD coating

Case back: screw in

Dimensions: 38mm diameter

Bracelet: leather or mil. spec. canvas

Water resistance: 100m

Production years: 1975 - 1982

Serial numbers: n/a

Application: aviation, artillery timing, military, time study

Notes: 3 register, 12 hr. recording, day & date window, tachometer scales, black military dial, date in French

Valuation*

Stainless Steel: $3,500.00 - $4,000.00** (rare)

14k Gold: n/a

18k Gold: n/a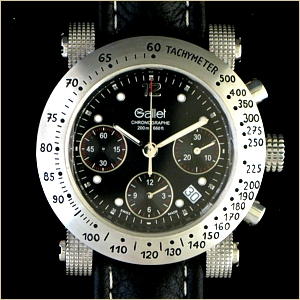 Model name: MultiChron 12 (Limited Edition of 100)

Reference #: n/a

Movement type: chronograph, auto-wind

Calibre: Gallet G240 chronometre (in-house manufactured)

Case material: stainless steel

Case back: screw in

Dimensions: 40mm diameter

Bracelet: leather or mil. spec. canvas

Water resistance: 200m / 660'

Production years: 2007 - 2009

Serial numbers: n/a

Application: auto racing

Notes: 3 register, 12 hr. recording, date window, speed calculating tachometer bezel, chronometre grade

Valuation*

Stainless Steel: $15,000.00 - $18,000.00 (extra rare)

14k Gold: n/a

18k Gold: $30,000.00 - $35,000.00 (extra rare)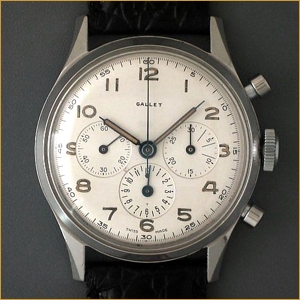 Model name: MultiChron 12 (high accuracy version)

Reference #: n/a

Movement type: chronograph, manual wind

Calibre: Excelsior Park 40-68 (special accuracy upgrade)

Case material: stainless steel

Case back: screw in or friction fit

Dimensions: 35.8mm

Bracelet: leather or mil. spec. canvas

Water resistance: 30m for round pusher version

Production years: 1965 - 1974

Serial numbers: n/a

Application: scientific, aviation, military, auto racing

Notes: produced w/ flat and round push buttons, special version with upgraded escapement & balance wheel

Valuation*

Stainless Steel: $5,800.00 - $6,500.00** (extra rare)

14k Gold: $6,000.00 - $7,000.00 (extra rare)

18k Gold: n/a