Gallet MultiChron Decimal

(Introduced in 1942)

The Decimal is a unique variation from the MultiChron 45 series. Engineered for medical, industrial, sports, and scientific applications, time recording functions are divided into minutes and tenths of minutes.
Model name: MultiChron Decimal "Waterproof"

Reference #: n/a

Movement type: chronograph, manual wind

Calibre: EP40

Case material: stainless steel

Case back: screw in

Dimensions: n/a

Bracelet: leather

Water resistance: 30m

Production years: 1950

Serial numbers: n/a

Application: scientific, laboratory, medical, time study

Notes: 45 min. recording, decimal reading

Valuation

Stainless Steel: $4500.00 - $5500.00 (rare)

14k Gold: n/a

18k Gold: n/a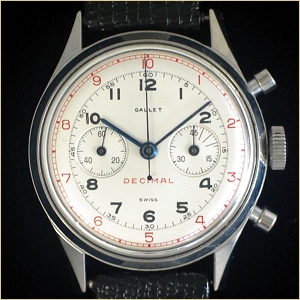 GALLET WORLD

GENEVE - SINCE 1466

* Valuations for timepieces listed on Gallet World are based on an average of fair market prices, either quoted or realized in retail venues, auctions, and NAWCC national and regional shows. Values displayed are for complete timepieces in good working condition with original dials and components.

** Add $300 to $500 for superior Excelsior Park Movement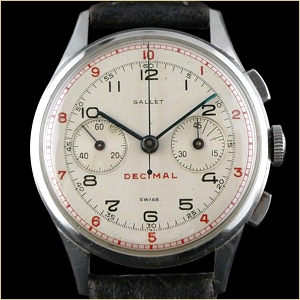 Model name: MultiChron Decimal (1st Series)

Reference #: n/a

Movement type: chronograph, manual wind

Calibre: EP40

Case material: stainless steel

Case back: press on

Dimensions: n/a

Bracelet: leather

Water resistance: 30m

Production years: 1942

Serial numbers: n/a

Application: scientific, laboratory, medical, time study

Notes: 45 min. recording, decimal reading, flat pushers, image compliments of Daniel Horton

Valuation

Stainless Steel: $3500.00 - $4500.00 (rare)

14k Gold: n/a

18k Gold: n/a